If you've ever considered working as an agency nurse, 2021 could be the best year to try it. Agency nurses traditionally earn more on average than permanent nurses, and it appears this gap is increasing rapidly.
​
Statistics from Adzuna (one of the UK's largest job boards) show that the average annual salary for an agency nurse has gone up by 7.2% year on year. Agency nurse annual earnings are currently around 42% higher than those for permanent nurses (and you could earn even more if you are prepared to work antisocial weekend or night shifts or are willing to travel).
​
​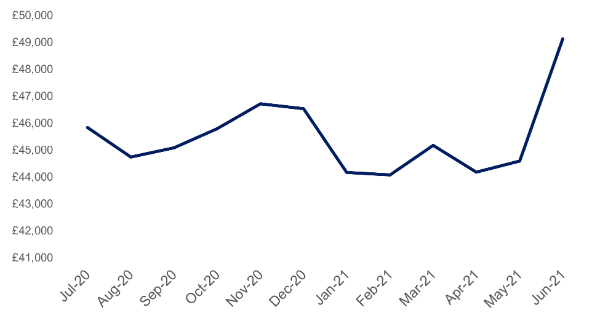 ​
So what is driving this increase in annual earnings and are pay rates being affected?
​
​
How are agency pay rates calculated?
​
Nursing agencies like MSI Recruitment work under NHS Frameworks, which is a list of vetted and compliant agencies. To become a framework supplier, agencies have to go through a tender process and are regularly audited to ensure they meet the robust compliance required by NHS Trusts and they have the ability to supply candidates. Most NHS agency roles are filled through these frameworks, so working with us means you'll get the widest choice of shifts.
​
However, it also means that the rates you can earn are capped, eg there is a maximum limit on the hourly rate that can be paid. The actual rates of pay are based on a number of factors, including your band and specialty and the time of day or week for the shift.
​
NHS Trusts are on occasions allowed to override the limit on pay caps and offer escalated rates (called a 'break glass' clause), especially if patient safety is at risk due to a lack of available staff.
​
​
What is driving this increase in pay rates?
​
These escalations are the result of staffing pressures within the NHS. Although the NMC Register is at its highest ever level with almost 732,000 nurses and midwives and continues to grow, the number of new nurses joining the register is dropping.
​
In the meantime, Trusts are struggling with extremely high vacancy rates. There are currently nearly 39,000 unfilled nursing vacancies in England, or over 10% of all nursing roles. This means there are now more vacancies than new nurses joining the register.
​
​
​
Sickness leave for nurses is also currently very high. While not at their pandemic peak of 7.4% of April 2020, absences are still at 4.5%. The primary cause of these absences is stress and anxiety (28% of all sick leave).
​
Unfilled vacancies increase the pressure on staff, leading to high levels of stress, absenteeism and turnover. This has been compounded by the Covid-19 pandemic which has exacerbated long term issues such as chronic excessive workload and burnout.
​
This high demand for nurses is not being met by the numbers of permanent nurses available, putting pressure on employers and increasing their reliance on agency nurses to plug the gaps. This in turn is having a knock-on effect on pay rates and escalations. As schools return and we move into winter flu season, the demand for agency staff is unlikely to fall in the near future.
​
​
Ready to try agency nursing?
​
So if you're considering working as an agency nurse, now is the ideal time to make the move. Not only will you be helping to support the NHS when they are struggling for staff, but you'll also have increasing opportunities to earn more cash.
​
Working with MSI as an agency worker will give you:
​
A great choice of roles, locations and times

Some of the best pay rates available, with a daily payroll

A quick and simple compliance process when registering with us

Excellent 24/7 customer service and support
​
If you're interested, register with us or check out our current roles:
​
​