​MSI are delighted to have been awarded one-star accreditation from Best Companies for very good levels of workplace engagement!
​
A one-star accreditation from Best Companies is a significant achievement, that shows an organisation is taking workplace engagement seriously.
​
"I would like to congratulate MSI Group on your achievement. Best Companies have been producing the accreditation standard since 2006 to acknowledge excellence in the workplace. Organisations like MSI Group have continued to focus on their employees and have been rewarded with an engaged workforce who tell us that this is a best company to work for."

Jonathan Austin
CEO & Founder of Best Companies
​
Our rating is based entirely on feedback from our staff, showing that they are engaged and positive about working for MSI Group. Our employees feel proud to work for us and believe they can make a valuable contribution to the success of MSI Group.
​
We scored particularly well for:
My Company

My Manager

My Team
​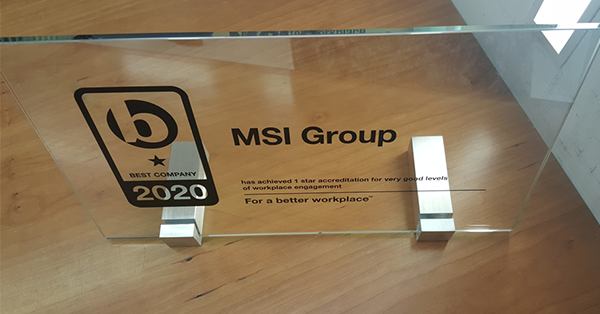 ​
If you're interested in exploring a rewarding new career with MSI Group, get in touch with our Internal Recruitment team on +44 (0) 8458 999 700 or send your CV to opportunities@msigroupltd.com.